Student Video Competition 2023
Languages Week 2023 - Term 2, Week 7 (June 6 - 9)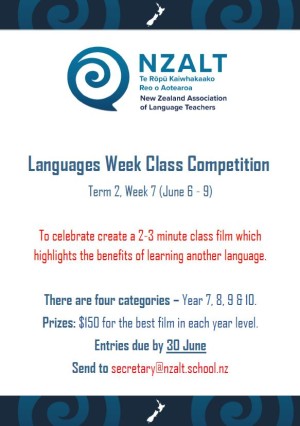 This year's NZALT competition is a collaborative class competition for students in Years 7 - 10. Classes are asked to submit a 2-3 minute film highlighting the benefits of learning another language.
This competition is only open to students whose teachers are NZALT members.
Prizes: $150 for the best film in each year level (7,8,9 & 10).
The competition is a superb activity for Languages Week as well as an opportunity for teachers to gather material to use in advertising the benefits of learning a language.
We ask that schools select the best entry in each category and share this with completed media consent forms to the NZALT Secretary, no later than Friday 30 June.
Download the competition poster for your classroom here.