Research Study Recruitment
SECONDARY TEACHERS TEACHING IN THE AOTEAROA NEW ZEALAND CONTEXT NEEDED TO TAKE PART IN IMPORTANT NEW RESEARCH!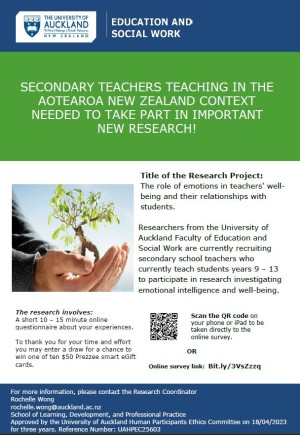 Kia ora koutou katoa
My name is Rochelle Wong, and I am a PhD candidate with the Faculty of Education and Social Work at The University of Auckland. We are conducting important research focussed on the role of emotions in teachers' well-being and their relationships with students.
The project aims to investigate the teacher's experiences in relation to their emotions, their well-being, and their relationships with the students that they teach. This project invites secondary school teachers to complete a 10 minute questionnaire. We hope that the findings will inform decisions about resourcing to assist teacher well-being.
We would appreciate it if you would include the attached flyer in your upcoming newsletter so that we can reach a larger audience and encourage people to actively pursue their own well-being.
Thank you for your time.
Ngā mihi maioha
Rochelle